Well I thought I would make a quick post about the new end cans I fitted on Monday.
Last year I fitted a pair of delkavic 450mm and for the price they have been good, I know with them being 450mm they would be only slightly louder than oem, but the main reason was the good old, I WANT THEM NOW lol.
I did consider the hawk ones but the 4-6 week wait was to long to wait.
Well 5 weeks ago I was wanting to make her a bit louder, so I bit the bullet and made the order, the Hawk exhaust range are made by pipewerx and I have fitted the pipewerx on my other blades in the past so I new the quality was definitely there.
I went with the stainless 380mm round pair for £280, and they do seem to be better quality than delkavic.
Fitted them and went out for a ride.
As soon as I fired her up the sound was deeper and it had the rumble to go with it.
Iam really happy with them, kick my self for not buying them to start with lol, but at least I can put the delkavics away safe for spare.
Here's the old delkavics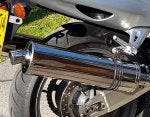 there ok for the price, but the 380mm Hawks blow them away.