Discussion Starter
·
#1
·
I'm prob way behind the curve here but I just found out these alarms have a safety recall on them dating back to 2017 which I hadn't spotted (for a certain range of serial numbers).
Yep I have one of these alarms and was having intermittant problems with it (symptomes as in the link below). I knew I had a loose wire and knew where it was in my loom. Nudging it would temporarily fix the symptomes and "strip loom there" to fix the issue was on my to do list. Seems it was just coincidental (or a secondary issue). Yep the whole alarm just failled and immobilised my bike mid journey.
Thank goodness I wasn't on a UK "smart" motorway (no hard shoulder/ safety lane to pullover in!) and closee enough to push my bike home.
See the link below for a list of symptomes (prior to full immobilisation) and the serial numbers effected.
https://www.datatool.co.uk/safetyrecalls4/
Apparently Datatool will replace the unit free (takes about 15 mins as it's plug and play with your existing spliced loom). I just hope they are still honouring that (dealer seemed to think so).
Prob I had was I'm now currently fully immobilized so can't get to a dealer without recovery (and bunfight with Datatool over that expense though I'm sure they'd stump up).
Faster solution however for me was using an S4 removal plug. It replaces the alarm (as if removed) without the need to reconnect wires as if unwinding the full installation loom integration. Here's a link to the Datatool approved dealer who supplied me with one.
https://rover.ebay.com/rover/0/0/0?mpre=https://www.ebay.co.uk/ulk/itm/202896633367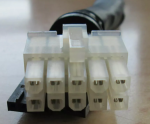 Pricey for what they are (£30/US$40) but a godsend compared to trying to work it out for yourself. The S4 is an "authorised installer only" alarm (so insurers accept the Thatcham Cat1 status) so I've not been able to find a wiring diagram or installation instructions and didn't care to strip the bike and loom to reverse engineer the install from the birds wiring diagram.
Don't ask me to reverse engineer the plug pin out either. We don't want thieves knocking these up for themselves (the dealer checked I was a legit S4 owner before selling me one).
Anyway, anyone with an S4 Red exhibiting the symptoms in the first link is best advised not to ride their bike on safety grounds. The plug at least allows you to get home (and stay mobile) if caught out and thence to a dealer in your own good time. It'll be a bit of a pain swapping over the plug after each trip but at least the alarm and immobiliser will then still protect my bike while not being ridden.
The plug is also fab if you are just ditching your old S4 whether installing something else or not!
Hope that's of help to someone else.
Rgds Mallow1